A Furnace heating system can have an average lifespan of up to 20 years. However, this will entirely depend on your efforts in making sure it gets quality maintenance and repair services. 
If no measures are taken in maintaining it, then it won't last that long. Many people don't know that the real answer lies with the expertise of the furnace repair and maintenance services providers.
Choosing the right furnace repair and installation company will save you money and many other frustrations. Many businesses in Fairbanks and the North Pole, Alaska, and their surrounding communities claim to provide furnace repair and maintenance services. 
You'll have to be knowledgeable to make a smart choice and hire the right company that will give you the best possible results.
These five tips will guide you to choose a furnace repairs and maintenance business that will give you quality services in the North Pole and Fairbanks, AK.
Check Licenses and Insurance
It is important to ask the company you're hiring a few questions, and you should start with enquiring to see their documentation. Check their license and see if they have updated their related supporting data. 
You should check the license requirements of Alaska State to verify their authenticity. The license should have a verifiable distinctive number, business name, contacts, and business address.
Insurance is another important topic. The heating repair company you wish to hire should have an insurance cover to ensure you remain protected. Without insurance, you may suffer huge losses and inconveniences if the damage occurs in repairs and maintenance.
 You might also be held liable if one or more employees get injured while working on your furnace. Always make sure you're getting heating repair services from an insured business.
Experience With Furnace Heating Systems Repairs
One of the biggest factors to consider when looking for a furnace company is the experience. A heating system business with experience has dealt with many customers while carrying out their installation and repair services in North Pole and Fairbanks, AK. It is also possible they have worked on a similar project like yours which they can fix without any problems.
You can be tempted to hire a new heating repair service provider, but the truth of the matter is, you can get the best service with the guys who have been around for several years. You should consider experienced technicians for your heating needs and other emergency services in the North Pole and Fairbanks, AK.
Ask For Referrals
One of the most convenient ways of gauging the reputation of furnace repair companies is through referrals. You need to ask heating systems installation and maintenance businesses to give you phone or email contacts of their customers so that you speak to them and find out about their previous work. 
It should take a few minutes to talk to each of them, and this effort will enable you to get a clear picture of what to expect from your potential heating repair service provider in Fairbanks and the North Pole.
You can also ask your colleagues, friends, and family if they know a good repair business. The person you know can have worked with experienced technicians who did a great job while conducting annual maintenance for their systems. 
However, don't hire any heating service provider based on a referral, conduct due diligence, and engage with the service provider to find out about their competence.
Check Reviews
With the internet today, you have an invaluable resource that you can use to see if the professional heating service repair business you're going to hire will provide you with the quality services that you need. 
You can read reviews from different customers the companies have worked with in the past. If most of the reviews are positive, you should consider going further and contact the office staff to find out more about their services.
You can also check on the local Better Business Bureau in North Pole and Fairbanks, AK, to see what people are saying about the furnace companies in the area. 
It is also important to check how heating repair businesses respond to negative comments or reviews, whether they're respectful or rude. You should pick the companies that treat people well.
Look For Service Guarantees and Warranties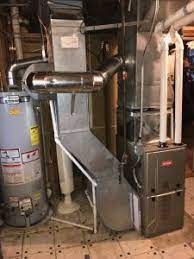 In most cases, a reputable furnaces installation and repair professional services provider will provide warranty and guarantees on their jobs. Such companies always make sure to put in the necessary effort to do the job well the first time.
It is wise to ask the businesses dealing with heating equipment repair about the warranties and guarantees they have to ensure they will be committed to doing the work efficiently. It also shows you that such a business has a reputation for providing quality service, and they work hard in maintaining it to gain the trust of their customers.
Furnaces have thermostats, which detect rise or fall in room temperature and control it by heating the air using sources such as electricity, oil, or gas in commercial or residential properties. It is important to understand that the maintenance and repair job is a preventive heating service involving a detailed examination and tune-up of the system.
The tune-ups will involve inspecting and cleaning, testing, adjusting, and/or lubricating all the components of the system.
Specific Work Involved in Complete Annual Maintenance of A Furnace Heating System
Examining the heat exchanger for signs of corrosion or damage

Assessing and cleaning the air intake grilles and the vent

Cleaning and inspecting the blower

Examining and calibrating the thermostat

Examining the flame sensor and burner

Cleaning, inspecting, and replacement of the air filter

Checking the belts for signs of cracks and damage

Inspection, tightening, and/or replacement of electrical connections and/or damaged wiring

Assessing and testing the blower motor and its amp draw

Inspecting and testing the startup cycle and safety controls of the system

Lubricating all the system's moving components
If your system uses gas or oil, the additional maintenance services include:
Examining the thermocouple

Assessing fuel lines for leaks

Inspecting and testing the pilot, burners, and gas pressure
Choosing the wrong people to conduct repairs for your system can lead to serious negative consequences. These tips will guide you in picking the right furnace services in Fairbanks, Alaska, for your system. 
Whether you need to install, repair, or fix any issue on your heating system, this information will help you pick, call, and schedule the right Fairbanks heating service provider into your house or residential or commercial property.