BEST Boiler Replacement service in Fairbanks, Alaska
COMPREHENSIVE HEATING SYSTEM TUNE UP
SEE HOW FAST WE CAN GET TO YOU IN FAIRBANKS, ALASKA
SCHEDULE YOUR COMPREHENSIVE HEATING SYSTEM TUNE UP! STAY WARM AND SAVE MONEY THIS WINTER. CALL US TODAY TO SET UP AN APPOINTMENT.
Residential Boiler Replacements
It is easy to ignore boiler heating systems as they work very hard to keep the home warm for years. It also has a limited lifespan and is prone to disrepair and breaking down. Here are some signs to look out for to help you figure out when you need a boiler replacement:
Increasing Maintenance and Repair Bills
If you find yourself calling for boiler repair services many times, or it requires more than one annual service, you need to replace your boiler system. The boiler heating system is certified as beyond Economical Repair (BER) because of the high costs of boiler repair and boiler maintenance; it is cheaper to buy a new one than to get more repairs.
Higher Fuel Bills
Old boiler systems have to work extra hard to heat the house because of their age leading to higher fuel bills. Upgrading to a newer, modern boiler saves more than 30 percent on energy bills. If your previous year's account amounted to almost 50 percent of the cost of a new boiler system, it is time to replace the boiler.
Boiler Replacement Parts getting Harder to Find
Suppose you find yourself forking out more and more money to heating contractors to source spare parts for your existing boiler to keep working properly. It is time for a new boiler installation.
Leakages
When you notice water leaking from the boiler, there is a damaged internal piece-either a valve, or a seal. It could be assumed to be just high pressure in the boiler. However, it is also a sign that some boiler components are worn out.
Heating Issues
When you notice your boiler takes unusually long to heat your home or water, the heater is underperforming and needs to be replaced. If your home and water are still not warm enough, the boiler needs replacing.
Unusual Sounds and Smells
If you hear your boiler making sounds that are not normal, it could be time to replace the boiler.
If you notice a strange smell from your boiler or your carbon monoxide detector goes off, evacuate the building and call an experienced heat technician to inspect the boiler system. It is important for you and others at home to evacuate because carbon monoxide gas, which is odorless, is poisonous. And can be fatal. Symptoms of carbon monoxide poisoning are dizziness, nausea, fatigue, and headaches. Immediately you notice these symptoms, call 911.
Low pressure
The pressure gauge should be between one and two bars constantly. If the boiler system continually shuts off suddenly, this is a sign of low pressure. If not, the boiler may need replacing.
Once you have established and confirmed with a heating professional your boiler needs replacing, it is now time to look at what you need to know about boilers. When buying a new boiler system unit, it is important to understand how boilers work and the different types available on the market.
A residential boiler is primarily designed to use steam or hot water for space heating. The boiler system works by heating the water in a tank, which supplies steam or hot water through radiators and pipes to produce warmth in the home. Boiler heating systems use either single-phase electric current, propane, natural gas, and heating oil.
There are six different types of boilers and three modern ones for residential use in the US. The six types are natural gas boilers, electric boilers, steam boilers, condensing boilers, and hot water boilers.
The two main models of boilers for residential use are Hot water boilers and steam boiler systems. The hot water boiling system is a heating and plumbing system that heats and pumps water through baseboards and throughout the house. The steam boiler system heats water to create steam that heats radiators throughout the house.
There are modern boilers now available with higher efficiency and are environmentally friendly. These are Combi boilers, Heat-only regular boilers, and System boilers. Looking at the AFUE (Annual Fuel Rating) is crucial when purchasing a new boiler. A high-efficiency system has an AFUE of 85 percent or higher.
A boiler either has high efficiency or standard efficiency. Highly efficient boiler systems have an energy efficiency of greater than 90 percent and qualify for an Energy Star. An Energy Star is a federal government certification that states that a boiler has more than 85 percent energy efficiency.
Combi boilers are the most popular residential boilers because they provide central heating and instant hot water. They also have an efficiency of 90 percent due to improvements in their components and condensing technology.
There are several factors about your residence that will determine which boiler system is suitable:
An experienced heating contractor can assess which boiler is suitable by looking at your home's insulation and heat loss level.
Prospector Plumbing is proudly offering Annual Boiler Tune Services in the Fairbanks, Alaska area.
Boiler Replacement in Fairbanks, Alaska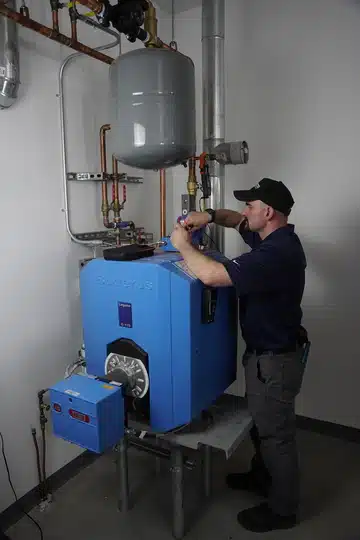 Call for your Annual Boiler Tune Service Today!
Prospector Plumbing and Heating is the best choice for boiler tune-ups in Fairbanks, AK.
Most American families heat their homes with furnaces or boilers. The heat output of boilers is 145- 190 degrees. Homes in Fairbanks lean more towards boilers for their plumbing and heating needs because of their capacity to produce more warmth to deal with the North Pole, Alaska's cold weather.
Older boilers are less efficient than furnaces. However, there are now new, high-efficiency modern boiler heating systems. Heating boiler systems have a lifespan of 10-15 years. Hence, it is advisable to replace your boiler if it is more than 15 years old.
Trying to squeeze out more years despite annual maintenance will make your boiler more prone to repairs and less efficient. The boiler heating system will also become less reliable to heat your home in the cold months of winter.
Professional Boiler Technicians
An experienced heating contractor can assess which boiler is suitable by looking at your home's insulation and heat loss level.
Prospectus Plumbing and Heating Company is a team of qualified and experienced technicians who offer boiler installation, repair, and maintenance services in Delta Junction, Fairbanks, and North Pole, Alaska.
For more information on residential boiler replacements, contact us at (907) 322-5763.
What you get when you join the Prospector Gold Club!
It's the best decision you'll make all year!
ASK ABOUT THE PROSPECTOR GOLD CLUB TODAY