BEST Boiler Maintenance Price in Fairbanks, Alaska
COMPREHENSIVE HEATING SYSTEM TUNE UP
SEE HOW FAST WE CAN GET TO YOU IN FAIRBANKS, ALASKA
SCHEDULE YOUR COMPREHENSIVE HEATING SYSTEM TUNE UP! STAY WARM AND SAVE MONEY THIS WINTER. CALL US TODAY TO SET UP AN APPOINTMENT.
Simply put, a boiler tune is a "tune-up" where a professional boiler technician will come to inspect your boiler and perform some maintenance on it. A boiler tune usually involves an inspection, cleaning, and repairs, if needed.
During a boiler tune, the plumber will check that everything with your boiler is functioning and ensure that your home is ready for the next winter season. These boiler tunes are the best way to clean, maintain, and understand the quality and status of your boiler.
Annual boiler tunes are the best way to make sure you are properly maintaining your home heating system. These regular preventative maintenance services help to make sure your heating system is tuned up and working efficiently.
What We Do During an Annual Boiler Tune
We recommend getting your boiler tuned once per year, either right after or right before the winter season. We don't recommend having your boiler tuned in the middle of the winter when it needs to work hard to heat your home. Yearly boiler tunes allow your home to be perfectly warm and comfortable for the entire winter with no interruptions for additional inspections or repairs.
During an annual boiler tune, our technicians check every aspect of the boiler to make sure it is working, clean every component, and make any immediate repairs. During the tune-up, we:
During the tune-up, our plumbers carefully clean each component, and if any parts seem to be close to needing a repair, the technician repairs them on site. Once our annual boiler tune is complete, you can be confident that you will be comfortable at home for the following winter.
Prospector Plumbing is proudly offering Annual Boiler Tune Services in the Fairbanks, Alaska area.
Boiler Maintenance in Fairbanks, Alaska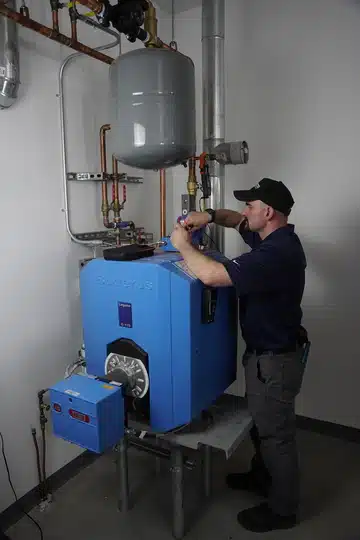 Call for your Annual Boiler Tune Service Today!
Prospector Plumbing and Heating is the best choice for boiler tune-ups in Fairbanks, AK.
Importance Of Annual Boiler Tunes
As we have said, annual boiler tunes are an essential part of preventative maintenance for your home heating system. Regular maintenance and cleaning through annual tunes help to prolong the life of your boiler and increase efficiency.
Without annual tunes and boiler maintenance, you run the risk of your boiler breaking during the winter months. This issue is not only uncomfortable and a pain to deal with, but it can be dangerous if the cold winter temperatures of Fairbanks, AK, reach the inside of your home.
Since boilers and furnaces are heated with gas, the technician must check all connections to ensure there isn't a gas leak. Gas leakage is the most significant safety concern when dealing with boilers and furnaces. Additionally, gas connections that aren't entirely secured may lead to inefficient heating.
Apart from keeping you and your family safe, annual boiler tunes from Prospector Plumbing and Heating have many other positive effects. Annual boiler tunes help to:
Professional Boiler Technicians
The professional boiler technicians at Prospector Plumbing and Heating dedicate themselves to making sure your boiler or furnace is clean, safe, and working correctly for the next winter season. Our Fairbanks plumbing and heating experts are equipped to service or repair any type of heating system, and they can perform a quality tune on any kind or size of boiler or furnace.
A boiler or furnace is a complex piece of equipment that is essential for heating your home and easy to damage if an untrained person tries to perform maintenance on it. Boiler tune-ups are vital for keeping your system running and your house at a safe temperature throughout the winter. Professional boiler technicians should be the only people who complete boiler tune-ups.
Boilers are an essential piece of equipment for any home in a cold climate, especially in Alaska. To keep your boiler in top shape and fully functional, you should be getting regular annual tune-ups. This routine maintenance helps clean and check all boiler components to verify your system is working properly and is safe to use in your home.
How Long Does a Boiler Last?
We do everything that we can for our customers to make sure that they get the most out of their boiler or furnace and aren't paying too much for repairs. Part of that is encouraging preventative maintenance. With annual boiler tunes, you will need fewer emergency repair services, and your boiler will last a lot longer than if you never have it serviced.
Why Use Annual Boiler Tunes?
Annual boiler tunes are a fast, painless way to make your life easier. The cost of an annual boiler tune is much less than what you would spend if you needed an emergency repair in the middle of winter. Plus, you can schedule it on your own time. Our annual boiler tunes help you get through the winter without even thinking or worrying about your boiler.
Get in Touch With Prospector Plumbing And Heating Today
With our years of experience servicing the Fairbanks, AK region, you can trust us to perform your annual boiler tunes. Our thorough checks, cleaning, and repairs done during a boiler tune help keep your boiler in top shape and increase the lifespan of the equipment.
Apart from boiler tunes, we offer boiler and furnace installation, where we help you select the most suitable model for your home and install it for you.
We also provide many plumbing services. We are a one-stop-shop for all of your plumbing and heating needs, whether you need a new water heater, home heating repair, or a heating system tune.
IF YOU HAVEN'T MADE AN APPOINTMENT ALREADY, THEN IT IS TIME TO SCHEDULE YOUR ANNUAL BOILER TUNE.
CALL PROSPECTOR PLUMBING AND HEATING TODAY TO MAKE AN APPOINTMENT.
What you get when you join the Prospector Gold Club!
It's the best decision you'll make all year!
ASK ABOUT THE PROSPECTOR GOLD CLUB TODAY