BEST Boiler Installation Price in Fairbanks, Alaska
Boiler Installation PROPOSAL
SEE HOW FAST WE CAN GET TO YOU IN FAIRBANKS, ALASKA
IN NEED OF FAST AND EFFICIENT BOILER AND FURNACE INSTALLATION? CALL TODAY FOR A FREE QUOTE.
Fairbanks' #1 Boiler Installation Technicians
Living in Alaska means unpredictable temperatures, harsh weather conditions, and rough winters. Heating your home is key to living comfortably, and at Prospector Plumbing and Heating, we are committed to complete each installation job with care and precision so you can face the cold.
Whether your boiler or furnace have reached the end of their useful lives, or you want to replace them for better, more energy-efficient models, we can recommend a new product for your needs and provide a complete installation.
There is no better team than us for boiler & furnace installation in Fairbanks, AK. No one knows Alaskan households and their plumbing needs better than our professional technicians. We don't just solve your home heating problem; we give you a long-lasting solution so you can rest assured your home is ready to confront the frigid temperatures.
Quality Boiler Installation in Fairbanks
Whenever you want to change your HVAC system, it is essential to consult with a licensed Fairbanks plumber. Installing a new heating system in your home or office is a long-term investment.
At Prospector Plumbing and Heating, we have the skills, knowledge, and experience you can depend on to ensure your heating installation project is a success. We offer different advanced boilers to choose from and can provide you with an estimate before installing the system. Our mission is for every client to be satisfied with the installation job and the system itself.
Signs You Need to Replace Your Old Boiler
We are trained to handle any heating repair or boiler installation task. If our plumbers confirm that your current boiler is in good working condition and only needs a small repair, we won't suggest a replacement.
However, if your boiler is older than ten years and requires frequent repairs, we will discuss new models and offer you quick and efficient installation.
Here are some of the common signs you need to replace your water heater:
A boiler system is an essential component in every Fairbanks home that provides the ultimate relaxation and comfort, but the heater's efficiency can deteriorate over time because of aging. When this happens, you will spend more on your energy costs and maintenance.
Prospector Plumbing is proudly offering Boiler and Furnace Installation Services in the Fairbanks, Alaska area.
Prospector Plumbing Offers Top-Quality Boiler and Furnace Installation Services Around Fairbanks, Alaska.
Call for your Boiler and Furnace Installation Service Today!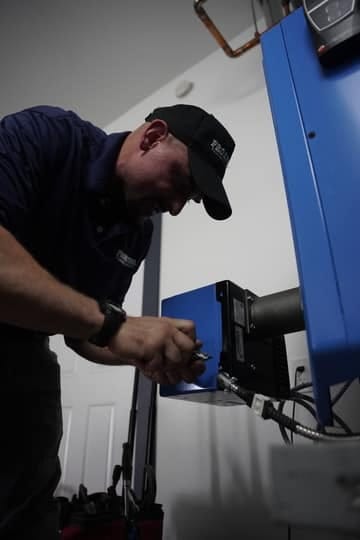 Call for your Boiler and Furnace Installation Service Today!
Our Furnace Installation Process
Boiler & furnace installation is a complex process, and don't let anyone tell you otherwise. Each water heater and furnace system installation requires specialized training, skills, and tools to do the job right.
You don't have to purchase the tools or know the process behind the job. That is where Prospector Plumbing and Heating comes in.
Benefits of New Boiler & Furnace Installation
If you replace your old system for hot water or steam boiler with an efficient, modern model and upgrade the heating controls, you will start to see the following perks almost immediately:
How to Take Care of Your New Boilers Installed in Your Property?
Whether you choose an electrical or natural gas boiler, it is essential to know how to take care of the system once we install it in your home or office.
We highly recommend considering our yearly maintenance services. Our skilled technician will perform a comprehensive inspection of your heating systems and air conditioning units to ensure they work properly. Next, we will open the systems to clean inside and check the flue. We inspect various components to make sure everything is secure and there are no potential issues.
Another thing you can do is talk to our contractors about insulation. Boilers in Fairbanks, AK function better when they maintain a consistent temperature. A boiler jacket can help improve the system's efficiency and performance.
Each installation starts with an analysis of the ductwork to check for gaps, breeches, or loose connections. If something is wrong, our technicians will repair it. Substandard ductwork may lower the performance of the new furnace and can be dangerous.
Our technicians will remove the old furnace and set the new system in place. We will:
Before leaving the property, our technicians will air balance the registers and ensure every room in your home or office receives the right amount of conditioned air necessary to maintain a comfortable temperature.
If you are replacing an older furnace, our contractors will run a full set of load calculations before selecting the new unit's capacity.
Some of the most important metrics we consider include:
A furnace installed without comprehensive calculations may not heat the air in the home and have a short life cycle.
Choosing The Furnace Type
There are four main types of furnaces:
What is The Most Common Furnace Type?
Most Fairbanks homes use oil-fired boilers. 
With proper maintenance, oil furnaces last twice as long as gas ones, but the prices vary a bit, making your fuel costs unpredictable.
Electric furnaces are smaller than others and are affordable. The only disadvantage is that they are not as efficient as oil and gas furnaces.
Contact Prospector Plumbing & Heating
Besides being known for our quality materials for boiler & furnace installation in Fairbanks, we are also committed to achieving customer satisfaction with any project.
WHETHER YOUR BOILER NEEDS REPLACEMENT, OR YOU AREN'T SATISFIED WITH YOUR ELECTRIC FURNACES' PERFORMANCE, DON'T HESITATE TO CONTACT PROSPECTOR PLUMBING AND HEATING. REACH OUT TO THE HIGHEST-RATED BOILER & FURNACE INSTALLATION TEAM IN FAIRBANKS, AK AT (907) 312-2598 TO BOOK YOUR SERVICE TODAY.
What your $96 Boiler Installation Proposal Gets You.
If we do the work, we will waive the proposal charge!
NO Service Call Fees! NO Dispatch Fees!